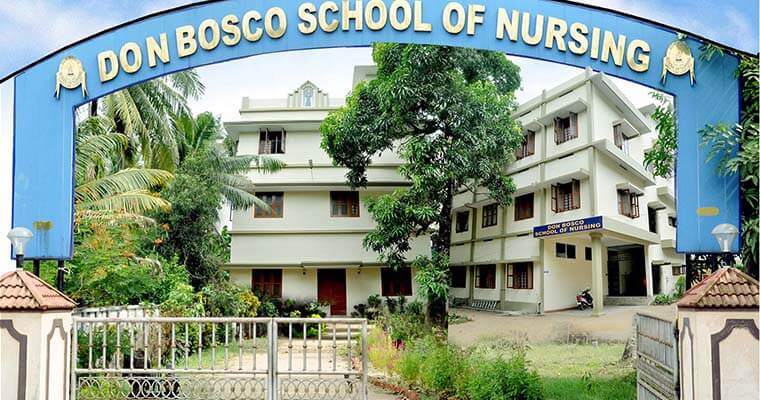 Don Bosco School of Nursing had its humble origin. It was founded with an objective of training girls with highly professional standard, equipping them with excellence, knowledge and skills and inculcating in them attitudes of kindness, compassion and tender love in caring the sick. The school was recognized by the State Nursing Council, Government of Kerala in 1999 November and the Indian Nursing Council in 2003, thus fulfilling the dream of Rt. Rev. Dr. Francis Kallarakkal, bishop of Kottapuram.
The School of Nursing was officially inaugurated by late Sri. K. Karunakaran, chief minister of Kerala on 31st January with the strength of 20 students and now the annual intake has been increased by 30. So far 19 batch students have completed their training and it produced nearly 600 full pledged committed nurses who now offer their expert service in all parts of the world, assuming various leadership roles as clinical nurses, nurse educators and nursing administrators.
The school of nursing has 4 spacious class rooms with modern facilities, well equipped computer lab and all other laboratories for study purpose. Our library has got good collections of books. Don Bosco School of Nursing, a unit of Don Bosco Charitable Trust is managed by the effective leadership of Rt. Rev. Dr. Joseph Karikkassery as Chairman, Rev. Fr. Rocky Roby Kalathil as Director, Rev. Sr. Priya John as the Principal. We have an excellent team of nursing educators, graduates of different colleges from different parts of the country.
Students of Don Bosco have a history for excelling in academic performance in theory and for their expertise in patient care. It is a matter of pride to note that the students of this institution had bagged the 1st, 2nd, 4th, 6th,7th, and 10th state ranks in the board examination. All 19 batches of this school of nursing had 100% pass during the board examination in the final year with distinction and first class.